Satoyama, the natural environments between Japan's mountain foothills and arable land, were once nurtured by farmers and foresters. To protect these unique, human-influenced environments, which are home to diverse living creatures, we must pass on their care to the next generation.
The circle of people joining this movement is gradually expanding. Why not experience the joy of nurturing nature by joining Satoyama activities in Tokyo sponsored by The Information Center for Natural Greenery Conservation. We aim to protect the abundant Satoyama in Tokyo and make them more accessible by connecting them with nature lovers like you.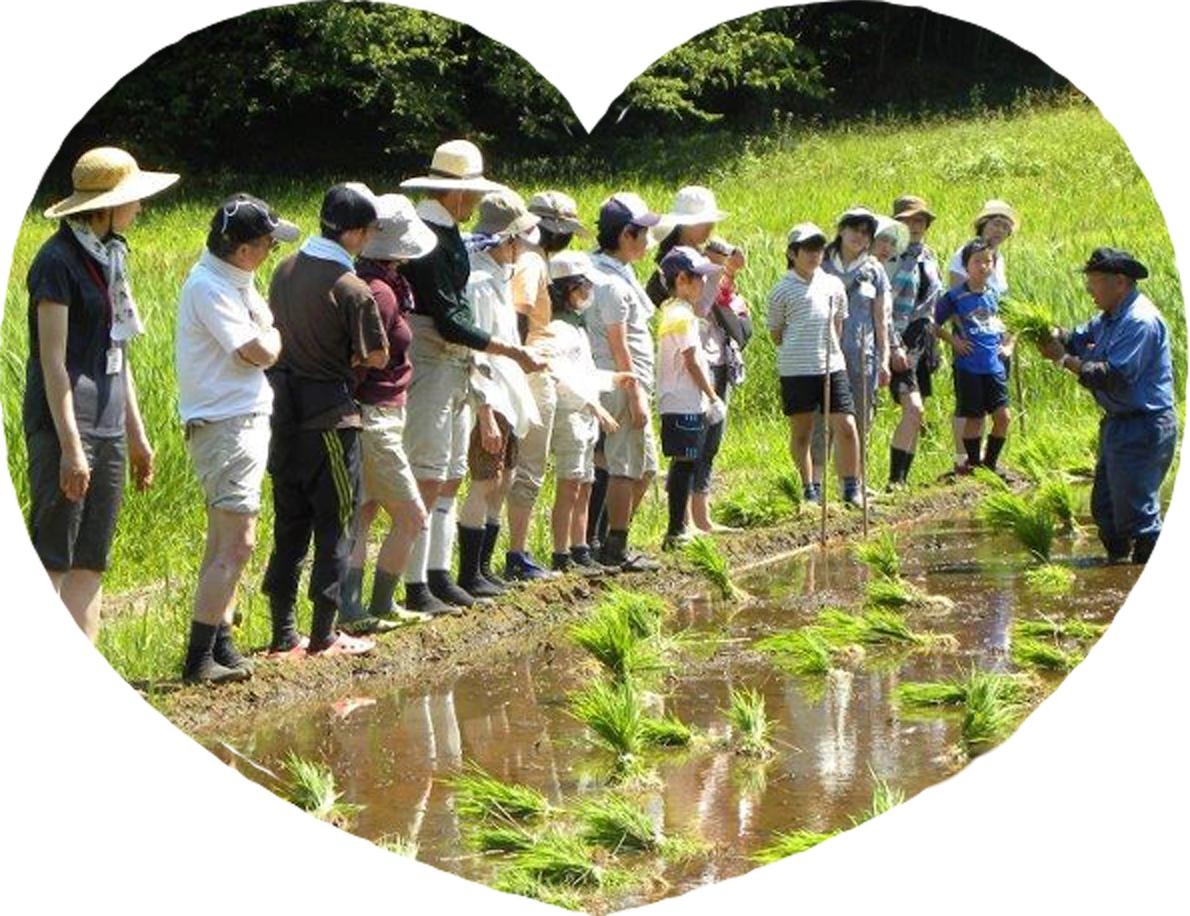 In Tokyo, there are many nostalgic landscapes once nurtured by farmers and foresters that were passed on from generation to generation. We affectionately call these sanctuaries of flora and fauna Satoyama. There are various kinds of Satoyama in mountainous, hilly and upland areas.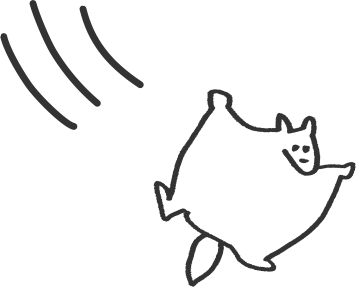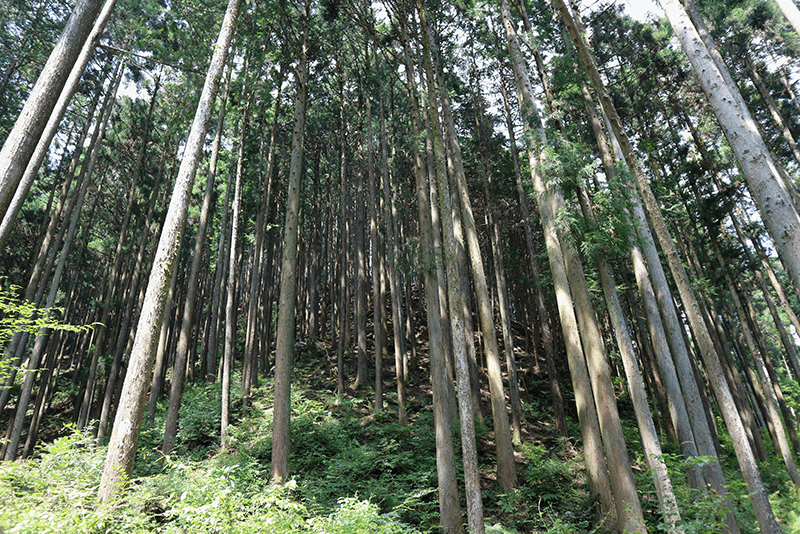 The mountainous Tama district of Tokyo features woodlands that absorb rainfall and control the flow of water to streams and rivers, making them vital to forestry efforts. Woodland conservation protects habitats for birds of prey, large mammals such as antelopes, and various wildlife that support these species.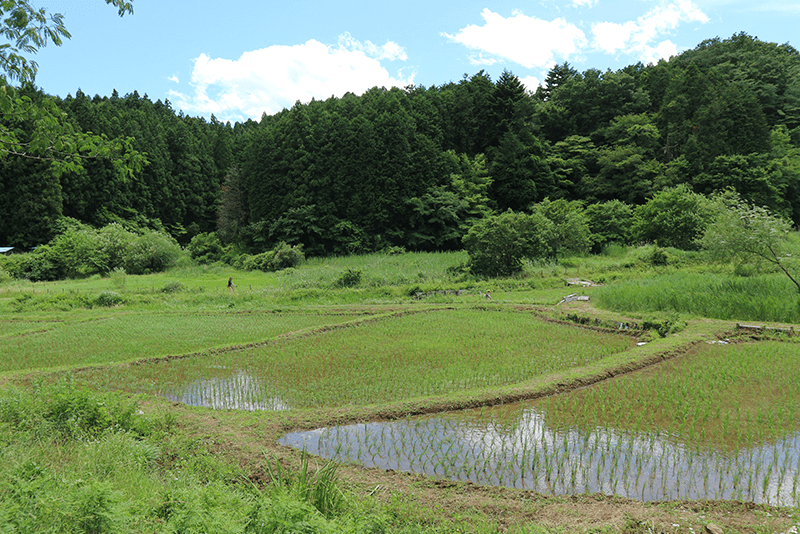 Fields and rice paddies interface with woodlands in the beautiful hills surrounding Yato (small valleys formed by spring water erosion of hills and terraces). These natural, hilly habitats are classic Satoyama.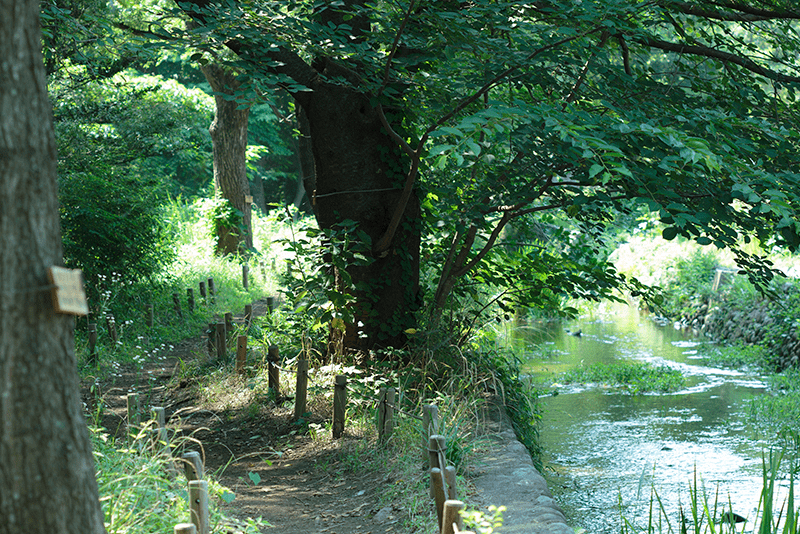 Brushwood and woodland border many irrigation canals in Tama. These treasured natural environments serve as reminders of the close connection that locals once had with nature and agriculture.
We help protect Satoyama and support biodiversity through wide-ranging activities, including the cutting back of thick growth, the planting and harvesting of rice in neighboring paddies, nature observations that deepen understanding and various craft workshops.

Clearing trees
We selectively clear trees to give nature a hand. When the trees grow too thick in abandoned woods, they prevent sunlight from reaching the ground and create dark, unhealthy environments. Selective clearing lets in the light to create bright, friendly environments where plants and creatures can thrive.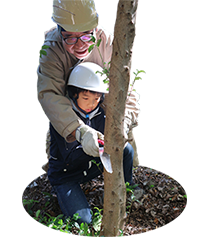 Clearing bamboo
For centuries, bamboo trees were the most typical Satoyama vegetation and were used to create farming tools and household utensils. When uncared for, fast-growing bamboo Satoyama become dense thickets unfriendly to wildlife. So periodic clearing is necessary to maintain biodiversity. Fortunately, bamboo trees are easily cut down with a saw.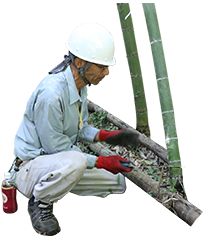 Clearing undergrowth
Clearing away undergrowth is the main activity of forest management because it simplifies forest care and fosters biodiversity. Seasonal flowers blooming in clearings are a common sight in Satoyama that are well taken care of.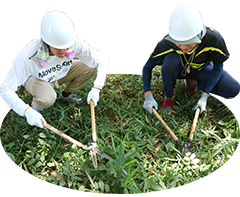 Paddy plowing (Taokoshi/Shirokaki)
Dry paddies are first plowed in a process called Taokoshi that aerates the soil, mixes in fertilizer and prevents weeds from growing. The paddy is then flooded with water, in a step called Shirokaki, to flatten the ground, support even rice growth and form a solid bottom that helps prevent later drainage.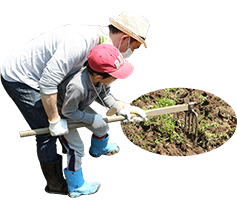 Planting rice
Participants stand side by side in this signature early summer event while planting rice seedlings in the paddy and loudly voicing encouragement. Come join us with your family and friends in this joyous experience.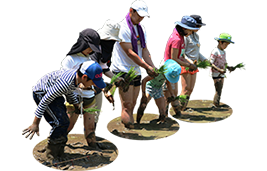 Weeding
Weeds growing in the paddies, and in the paths between paddies, must be removed to leave more nourishment for the rice. Weeding also stimulates the plant roots and boosts rice growth!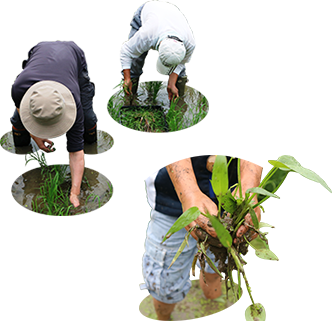 Harvesting and drying rice (Hazakake)
Rice fields waving in the wind are a classic autumn scene. Come and enjoy the sight as you help us harvest rice with a sickle and place it on Haza (long racks) to dry in the sun. Then stand back and enjoy your beautiful handiwork.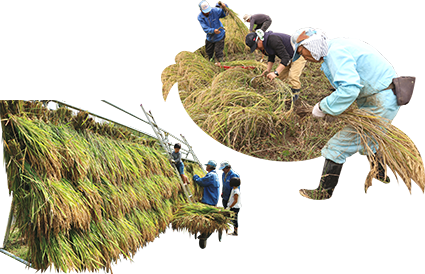 Nature observation
Through on-site observation, we introduce you to various Satoyama that can be enjoyed in different ways. Sharing the depth of meaning behind Satoyama is one of our important activities.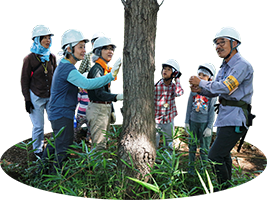 Craft workshop
At this workshop, you'll craft items using materials from Satoyama such as wood and bamboo. The seasonal items include objects useful for daily life, traditional toys, musical instruments, and specimens that inspire curiosity about nature.